Alan Wylie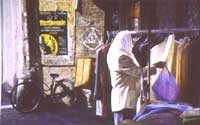 Vendi Vestiti
22 x 24" watercolour
Alan Wylie, SFCA, MFA, CSMA, AWS, CWS, a graduate of the Glasgow School of Art with a master's degree in mural design, painting and mosaics, is a senior signature member of the FCA, and the American Watercolor Society.
He was an early member of The Canadian Society of Marine Artists.
Wylie is a constant award-winner, most recently receiving the CFS Medal at the 1999 American Watercolor Society's Annual International Exhibition. He travels extensively, creating large murals in and on the exterior of public buildings, including 24 mosaic panels at the Charles Rennie McIntosh School of Art in Glasgow and the 100 foot outdoor mural in historic Chemainus, B.C. A number of his murals can be found in Arkansas.
Wylie's incredible technical expertise, coupled with his innate ability to evoke emotion, makes his work undeniably collectable and an inspiration to art lovers everywhere.