Edward Spears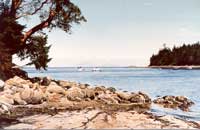 Pilot Bay, Gabriola Island, BC
gouache
Edward Spears, SFCA, CSMA, grew up in Toronto and at the age of 12 won first prize in an art exhibition, plus a special prize of a box of watercolours presented to him by Owen Staples.
Following a successful career in the Toronto graphic and painting industry, he moved to Vancouver Island. Spearsí preferred medium is gouache (often referred to as poster paint) which displays a light reflecting brilliance. He is renowned for his fine attention to detail. Travelling to exotic destinations in Europe, the Orient and the South Seas has inspired much of his subject matter, and that "fresh spirit of a traveller" can really be felt in his works.
Spears is a signature member of the Canadian Society of Marine Artists as well as the FCA. A beautiful wooded property on the shores of Patrica Bay, Vancouver Island, makes a wonderful setting for his studio and residence.