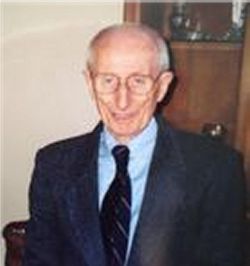 John Vandenengel, CSMA, SCA;
21 October 1923 - 12 May 2016.
Mr. Vandenengel was born in the Netherlands in 1923. He attended nautical school in Amsterdam then worked as navigation officer for Holland America Line and as marine superintendent for Furness Lines in Canada. He retired in 1989.
John held an interest in art from an early age and after retirement took up painting, specializing in marine art. He participated in local group shows and was elected member of the Société Canadienne de l'Aquarelle in 1991.
He acquired gallery representation in 1994 which led to commissions from shipping companies and private collectors. Solo exhibitions of his work were held at the Quebec Marine Museum and the Montreal Port Authority during 1989.
Since 2002 John has also been participating in the international exhibitions of the miniature art societies of Florida and Washington, DC.
John was elected a member of the Canadian Society of Marine Artists in 2006.
John passed away on 12 May 2016. His reputation as a miniaturist will live on.
Union Castle Liner departing Cape Town
Watercolour, 3" x 5 ¼"
[ ]
The Fishing Fleet leaving Ymuiden.
Watercolour, 3" x 5 ¼"
[ ]
Icebreaker off Baffin Island
Watercolour, 3" x 4 ½"
[ ]
SS United States passing Robbins Reef
Watercolour, 3" x 5 ¼"
[ ]
Trampship and Tanker in the North Sea
Watercolour, 3" x 5"
[ ]